Discover more from Building Your Future
I write about health, technology, public policy and self-improvement from a science-based perspective.
Over 1,000 subscribers
50 (Relatively) Healthy Paleo Dessert Recipes You Can Cook Today- Part 2
Welcome to part two of my massive collection of paleo dessert recipes!  Here you'll find brownies, fruit-focused recipes, candy, milkshakes, ice cream, and a few other odds and ends.  For cookies, cakes, pies, and breads, check out part one. 
To be clear, I've only cooked a few of these myself.  It'll take years to get through all of them, even excluding the ones that don't personally interest me.  Plus I'm on a cut right now, so no sweets until Thanksgiving.
So if you do cook one of these recipes, please shoot me an email and let me know how it went- I could use some help deciding which ones to cook first when I get back to eating sweets again.   And bookmark this article- it's one you'll want to keep referring back to in the future.
Brownies
Paleo sweet potato brownies by The Healthy Foodie
Bet you didn't know you could bake with sweet potatoes, did you?  This is one of the more complex and exotic recipes on this list, with ingredients like coconut flour, sweet potato puree, avocado, arrowroot flour (hey, that stuff again!) and date paste, as well as a separate icing recipe that calls for date paste and hazelnut butter.  Uniquely, it's meant to be kept in the fridge and served cold.     
Sweet potato ginger brownies by Civilized Caveman Cooking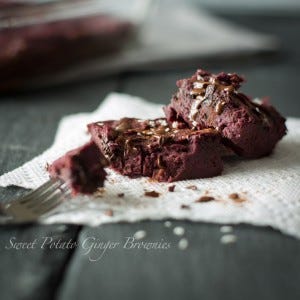 Oh, snap!  If you thought sweet potato brownies sounded awesome, wait until you try taste them when they're gingerfied!  Despite the addition of moar flavorz, this is actually a little simpler than the last recipe- no separate icing, for starters. 
Gluten-free paleo brownies by Oh Snap! Let's Eat!
These simple and delicious brownies are made with almond flour, and flavored with cocoa powder, vanilla extract and honey, giving them a nice, low sugar content.  Well, until you add the "optional" chocolate chips (you can leave them out, but only if you hate America).   
Raw, no bake chocolate chip cookie dough brownies by Living Healthy with Chocolate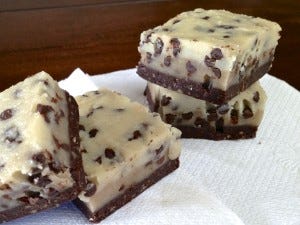 These delightful cookie-dough brownies are two-layered- brownie on the bottom, cookie dough on the top.  They're also no-bake, meaning you spread out the brownie dough in a pan, spread the cookie dough on top of it, refrigerate, and then eat it it raw once it's solidified a bit.  The perfect pastry for people who hate baking!
Spicy red velvet brownies by Paleo in PDX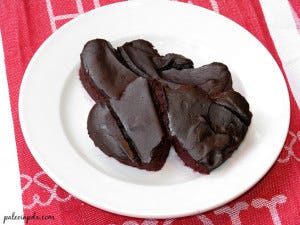 Red velvet cake brownies...made with fresh beets and no flour of any kind...spiced up with cinnamon and cayenne pepper.  Need I say more? 
Spinach brownies by The Paleo Mom
Oh damn, another spinach recipe!  Of course, it also has a plantain, a bunch of chocolate, and a fair amount of sugar- I get the impression that you can't even taste the spinach (the brownies aren't green at all).  So why spinach?  Eh, if you can sneak it in there, why not?
Fudgey paleo brownies by PaleoHacks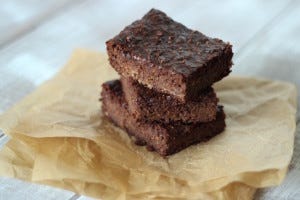 This unusual recipe forgoes both sugar and sweeteners in favor of using very ripe bananas for sweetness- also contributing to the soft, fudgey texture.  They're delicious, but also quite fattening- something to look forward to on cheat day.
One minute molten chocolate brownie by Livin' the Crunchy Life
Hands-down the easiest paleo pastry you could possibly make, this is a single-serving recipe to be made in the microwave for immediate consumption.  It's gluten/dairy/egg/nut free, vegan, and the sugar content can be kept pretty low depending on your tastes.  Perfect for when you want a quick treat, but don't want to have a bunch of sweets sitting in your fridge, tempting you for the rest of the week. 
Primal cream mint brownie bars by Beauty and the Foodie
I've never heard of a mint brownie before, but now that I know they exist, I want one.  Note: this recipe is primal, not paleo- it contains cheese. 
Fruit Recipes
Vegan strawberry hand pies with lemon drizzle by A Saucy Kitchen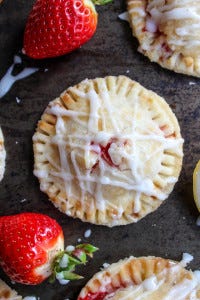 This is a great gluten-free, vegan recipe for people who like fruit pastries and aren't too worried about sugar content.  Unlike all the stevia and honey-based recipes on this list, this one goes for good old-fashioned cane sugar and powdered sugar.
Spiced apples baked in brandy by PaleoGrubs
Core a couple of apples, stuff them with a mix of brandy, spices, walnuts and raisins, and bake them in a pan coated in more of that delicious alcoholic goodness.  You may note that the article is actually titled Spiced autumn apples, but come on- if something's that good, why restrict it to just one part of the year?
Blueberry-orange crepes with chocolate drizzle by Cavegirl Cuisine
These combine blueberries, orange juice and zest, and maple syrup, wrapped in a cassava flour crepe and drizzled with chocolate and pecans.  Too much flavor?  NEVER! 
Paleo apple tart by Real Food Forager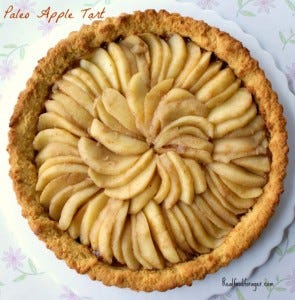 This simple tart recipe uses a coconut and honey crust, and spices and apricot jam to add flavor to the apple slices.  With a prep time of 25 minutes or less and a cook time of 21 minutes, it's ideal for when you need to cook up a fancy-looking dessert on short notice. 
Grain-free orange almond cookies by Tess the Domestic Diva
I had to include this one because I've never, ever heard of orange-flavored cookies before.    This is a quick, simple recipe, with only 5 ingredients and a 15-minute cook time- a great started option if you want to try your hand at gluten-free cooking right now. 
Gluten-free blueberry muffins by The Healthy Chef
I used to be big on blueberry muffins- they were the main reason I loved eating at SoupPlantation when I was a kid.  Still love them actually, but I don't eat them much since cutting back on bread, so I was pretty excited to see that there's a low-carb, gluten-free, higher-protein version of them that also includes an apple for good measure. 
Raspberry high-protein muffins by 12 Minute Athlete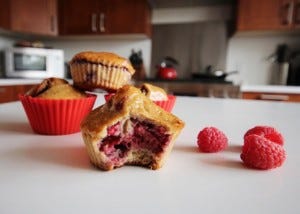 With 90 calories and 8 grams of protein per serving, these make an excellent post-workout treat, or even a great anytime snack if you're not on a low-carb diet.  They're not even relatively healthy; these muffins recipe are legit healthy.  But the most tantalizing part about this is that apparently cinnamon roll whey protein powder is a thing.  A thing which is now on my shopping list.
Candy, Ice Cream and Miscellaneous Shiz
Cinnamon, ginger and raisin paleo pancakes by Eat Drink Paleo
While this is technically a breakfast item, not a dessert, it certainly could be eaten as a dessert...or for lunch...or teatime.  With ginger, raisins and orange zest, these will definitely have a more unique flavor than your typical pancakes...but you still want to top them with maple syrup, of course.
Pumpkin parfait by Sweetly Raw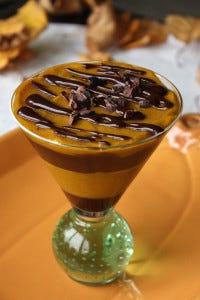 For those who haven't figured it out by now- yes, I really, really love pumpkin.  I also had to include this parfait recipe because it includes another ingredient I've never heard of before- yes, two in one article!  It uses gelled Irish moss, which is actually not a moss at all, but rather a type of nutrient-rich North Atlantic seaweed that the media is already rushing to label a superfood.  But more importantly- pumpkin. 
Vanilla bean milkshake by PaleoHacks
This paleo milkshake substitute uses coconut milk flavored with vanilla to closely emulate that classic milkshake taste- but with ingredients that are somewhat less fattening, and a hell of a lot healthier for your digestive system.   
Chocolate chip banana crunch cereal by Whole Lifestyle Nutrition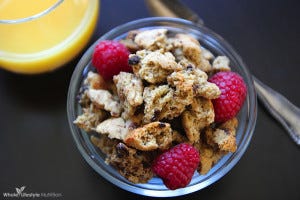 Ever wondered how to make gluten-free cereal?  Simple: cook some gluten-free bread (banana bread in this case), stick it in a dehydrator until it gets crunchy, then break it up into little flakes.  Serve with almond milk or berries- BOOM! Gluten-free cereal!
Hot pumpkin spice hazelnut nog by Rawmazing
Okay, last pumpkin recipe, I swear!  I promised myself I'd find a nog recipe for you guys, even though I've never been big on it myself.  This recipe uses hazelnut milk, and doesn't include eggs, although they could be added easily enough. Also, cinnamon and maple syrup.  Come to think of it, maybe I love cinnamon even more than I love pumpkin?  Hmmm....
Coconut date ice cream by Healing & Eating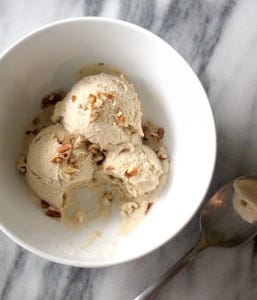 This is a simple 2-3 ingredient recipe for tasty, fruity paleo ice cream- just blend it, refrigerate it, and put it through an ice cream maker a couple hours later.  If you like ice cream with nuts in it (I don't, but I know people who swear by it) the dates and pecans complement each other perfectly.   
Paleo sex in a pan by Grok Grub
I had heard of sex in a pan before, but totally forgot how insane it is.  Seven layers (if you count the crust, which I do) of pudding, cake, faux cream cheese, frosting, whipped cream and Cthulhu knows what else, made from...well, a lot of stuff.  Just check it out. 
Creamy ice cream with caramel topping by Whole Food Simply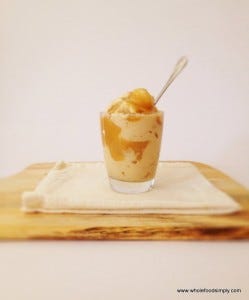 This is a quick, easy ice cream made by putting bananas, coconut milk and vanilla into a blender.  The caramel topping is almost as easy: a handmade mix of tahini, honey, coconut milk and vanilla.  It's healthier than anything you'd find in stores, can be made in five minutes, and will really impress your dinner guests. 
Paleo almond butter cups by Simple Green Moms
Designed as a healthy substitute for Reese's peanut butter cups, this recipes uses almond butter (but could use peanut butter instead) along with honey and coconut oil to provide a lower-sugar, grain and dairy-free alternative to one of the most popular candies on the market.
Paleo cinnamon roll by What Runs Lori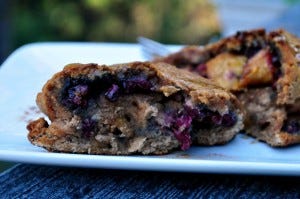 I'll admit it, cinnamon rolls are one of my big weaknesses.  In fact, for the past few weeks they've been my main weakness (there's a pretty kickass bakery down the street from where I'm staying).  I just wish their cinnamon rolls were made with this low-sugar paleo recipe so I could have one every day instead of limiting them to cheat day.  :(
Cinnamon gummy bears by Plaid and Paleo
Moar paleo candiez!  These gummy bears are made from organic apple juice and grass-fed gelatin, with a little beet juice and cinammon extract for flavor.  Easy to make, and totally devoid of gluten and refined sugars.  Heat it, blend it, pour it into a mold and stick it in the fridge, and two hours later you have gummy bears.
Dark chocolate covered almonds by Paleo Leap
I love chocolate-covered almonds, but the ones you find in the store always have too much sugar.  Making them at home gives you the option of using a lower-sugar, dairy-free dark chocolate, and this recipe is so simple you hardly even need to read it- just melt the chocolate, stir the almonds in it, set them on a pan, sprinkle them with sea salt, let them dry, and you're done. 
If you enjoyed this article, check out Part 1 over on Medium.com.  To receive future updates- including recipes and advice on staying in shape while eating awesome food, join my free fitness newsletter.